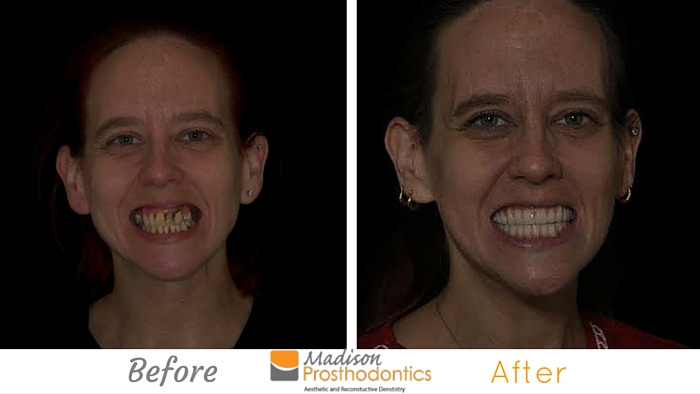 I first met Ms. Kathy at my children's daycare center.  She was the cook at the center and regularly interacted with the kids and their parents.  She was always a very happy individual, but always tried her best not to smile.  One day she came to my wife and asked if there was anything that could be done to fix her one front tooth.  It was discolored and stood out when she smiled.  My wife, of course, said,  "Sure!  But I think you need to see Cramin…."
After an initial consultation, I knew that the situation was more difficult than anticipated and would require a comprehensive evaluation so that we could present several different treatment options with recommendations and advantages and disadvantages of each option.  Our primary concern was to involve Ms. Kathy in making the best decision for her according to her time constraints, physical capabilities, finances, and scientific merit for predictable treatment. We took these pictures prior to beginning treatment.
Ms. Kathy elected to pursue upper and lower specialty dentures with the lower denture retained by two dental implants.  We removed all remaining teeth and placed dental implants. Upon completion of treatment, we were able to get her to smile and eat again!  
It is a great feeling to know that Madison Prosthodontics was able to give her a new outlook on life—a life full of SMILES!  
Just remember….
"Every time you smile at someone, it is an action of love, a gift to that person, a beautiful thing."

~ Mother Theresa
If you are concerned about your smile, like Ms. Kathy, and want to do something to change it or desire a smile makeover, we, at Madison Prosthodontics, would be honored to assist you in passing on the gift of a beautiful smile!  We are located in Madison, Alabama. Call (256) 319-3256 for a consultation today!
*We thank our patient for giving permission to use her image and information in this blog post.
Published by Cramin P. Wiltz ll, DMD, CDT
Dr. Wiltz specializes in aesthetic and reconstructive dentistry. He serves as the architect of your treatment plan and collaborates closely with your dentist or other medical providers to ensure you get the amazing, long-lasting results you deserve.