Emergency Denture Repair Services
Expert Denture Repair Done Quickly in our On-Site Lab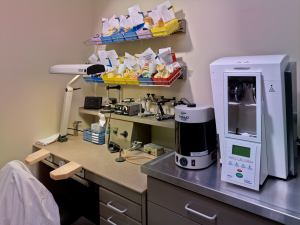 Have you ever dropped your partial or complete denture and it cracked into pieces? Or been out with friends and bit down and chipped a tooth, or even broke several teeth off your denture? These are very embarrassing moments and it literally can happen to anyone!
Our on-site removable dental laboratory allows us to provide same-day denture and implant denture repairs for your convenience!
Your local Prosthodontist, Dr. Wiltz, and his exceptional team, can in most cases get you in quickly to get your needs addressed the same day so that you can get back going with your normal routine. We provide complete denture, partial denture, and implant denture repair services as well as relines and rebases to patients in Decatur, Athens, Huntsville, Madison, Harvest, and the surrounding areas of Alabama.
Please be mindful that if your denture is loose, hurts, or you must use a lot of adhesive to chew, Dr. Wiltz can guide you on what can be done to correct the problem.
Please call ahead, (256) 319-3256, so that we can accommodate your needs. Same day service is usually available when dentures are in our laboratory by noon.
Sit back, relax, enjoy refreshments and watch TV while you wait, or simply come in and drop off your denture and pick it up later in the day! Either way, our team looks forward to serving you!