Meet Dr. Wiltz
Providing solutions for the devastating effects of complex dental issues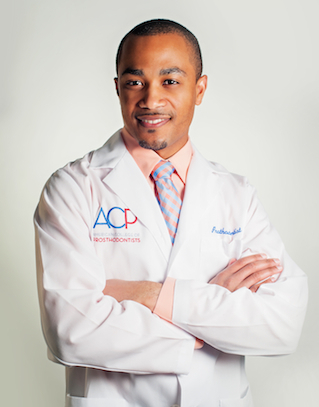 "I've known since high school that I wanted to go into medicine. When I started exploring my options in college, I kept thinking of my father, who lived with dentures since he was 19, always had problems with the fit and was self-conscious in social situations. I thought of all the people in the small, four-stoplight town I grew up in who didn't have any teeth or had missing teeth. And it made me think about dentistry as a way I could truly make a difference in people's lives.
"In both college and dental school, I had a lot of great mentors who guided me toward specialty dentistry. I made more dentures than anyone and made them all myself (unlike classmates who sent theirs out to a lab). I think the highlight of my educational experience was casting my dad's dentures. He finally could be confident about his smile.
"In prosthodontics, I love the experience, love the interaction with people and love the ability to see results and get my patients' feedback. Unlike general dentistry, prosthodontics lets me create anything I put my mind to, designing exactly what is needed for each unique dental situation. My artistry goes into someone else's mouth and I can put my own signature on it. I want it to last.
"I have focused my practice on the difficult cases, the complex cases, and the highly aesthetic cases that can't be handled by a general dentist. I want to give you the best service and the best solution I can—something that not only works well and looks great but stays in place for a long time.
"My goal is to have you leave my office knowing you're getting the best quality dental restoration possible and that you don't have to think about what most people take for granted: smiling, eating and talking. Knowing I've done that makes me happy."
Board Eligible Prosthodontist: The American Board of Prosthodontics
Specialty Training: Certificate in Prosthodontics, Louisiana State University Health Science Center, School of Dentistry
DMD: University of Alabama at Birmingham School of Dentistry
CDT: Certified Dental Laboratory Technician
Member: American College of Prosthodontics, Southeastern Academy of Prosthodontics, Academy of Osseointegration, American Dental Association, Alabama Dental Association, Huntsville-Madison County Dental Society, National Board for Certification in Dental Laboratory Technology
Awards: Southeastern Academy of Prosthodontics Scholarship; Hanau Excellence in Prosthodontics Award, Best of the Best Whip Mix Corp.; Outstanding Dental Student in Implant Dentistry Award; Student Leadership Award, Board of Directors of Delta Dental; Student Leadership Award, The Alabama Dental Association; UAB President's Diversity Award
Lecturer: LSU Health Science Center, School of Dentistry